Mike Bridges is an internationally known clinician and bridle horseman in the California Vaquero Style with more than fifty years of making his living on the back of a horse. Here he shares his vast experience and knowledge in a beautiful coffee table style book, as well as interesting informative videos.
The Art of Making a California-Style Vaquero Bridle Horse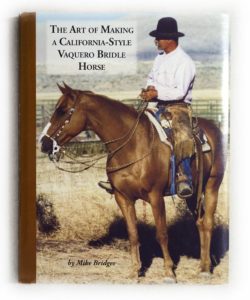 This hard bound, coffee table style book, with its full color dust jacket and gold foil lettering on the cover, is as beautiful as it is useful. Its 185 pages are chock full of photos and content, well organized and highly detailed. In his eloquent introduction to the book, Ernie Morris writes, "Mike has done an outstanding job in putting all of this down for others to learn and enjoy. He has made a great contribution to the horse world. This book should be in every horseman's library."
Understanding the Hackamore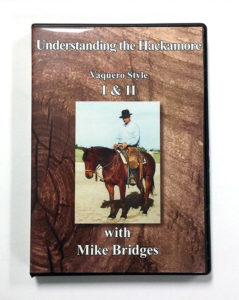 Mike's vast experience using the hackamore in the California Vaquero style is clearly evident in this two DVD set.
Details
From a brief history of the hackamore and its importance to the vaquero style of training, to details of the equipment and matching size of the bosal to size and weight of the mecate (hair rope reins) these videos are chock full of valuable information. The set includes discussions about how the bosal works physically, tips for fitting a bosal to an individual horse, and proper hand signals. In an easy to understand presentation style, Mike demonstrates exercises he uses for hackamore training and provides a wealth of information in helping you develop the hackamore horse.
Running time is approx. 1 hr. 39 min. for DVD 1, 1 hr. 7 min. for DVD 2
Bridle Course – California Style of Bridling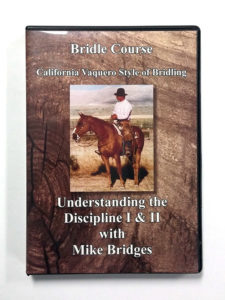 The true California Style Vaquero Bridle horse is a thing of beauty – a living, functional art form. In this two volume set Mike shares his knowledge learned from studying the masters, and from his own experience, gained from more than 170,000 miles ridden.
Details
Throughout his life he has worked hard to glean the best parts of the teachings offered by respected horseman while developing his own incredible depth of knowledge. Building the true California Style Vaquero Horse is a multi-year process, requiring study, patience and dedication from the rider. These DVDs provide a wealth of details, from the physicality of the horse's structure to the tools of the trade (bosal, mecate, reins and bit). In discussion and demonstration he takes you through the transition from snaffle or hackamore to the two-rein and on to the finished bridle horse.
Running time is approx. 1 hr. 22 min. for DVD 1, 1 hr. 40 min. for DVD 2.
BUY NOW
Seeking Refinement

Refinement in movement is the ultimate goal of the horseman. If you are looking for instruction on how to help your horse produce that movement, with the ultimate goal of higher performance, this video is for you.
Details
Mike's explanations and demonstrations on using different parts of your body as direct and enhancing signals is presented in a way that is easy to understand and put to use. Using both hackamore and snaffle bit, he demonstrates techniques to achieve that refined, higher level of horsemanship.
Running time is approx. 1 hr. 47 min.
DVD Format
BUY NOW
Mike Bridges | DVD Value Pack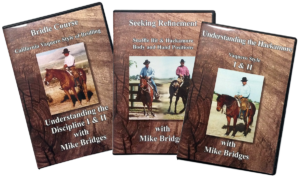 SAVE $25.00!: All three titles (Understanding the Hackamore, Bridle Course, and Seeking Refinement)